It's been a while since I wrote something in my blog. Recently I finished my B2 level in German language. My 10 months course not only taught language but also got the opportunity to mingle with people from different countries. After getting closer to people from other land, something which surprised me is the misconception what they have about my homeland India. Some made my eyebrows raise and few made me laugh. I realized, India, being a multi–cultural, multi–ethnic and multi–religious society, there is no big wonder that people have so much misconceptions. Here, I like to write about some questions which I came across being an Indian in Germany.
Do you speak "Indian"?
No, of course we don't speak "Indian," because Indian is not a language. People have no idea, how many languages and dialects exist in our country and are spoken by everyone. There are about 122 native languages exists in India. So, whenever I come across the question "Sprichst du Indisch?" (do you speak Indian?), my answer will not be yes or no, rather a big lecture of Indian languages.
As shown in Bollywood films, do you guys dance in streets?
I remembered, when my good friend asked this to me "Tanzen Sie alle, wie in Bollywood-Filmen gezeigt, auf der Straße?", I couldn't control my laughter. Yes we love to see movies but none of us go around dancing in streets and singing in the rain. We live so normally, much like the other people in the world.
Have you seen snakes in streets?
It was a weird question which I came across from one of my Greek friend. She literally thought India is underdeveloped and we see wild animals in daily basis. I asked "where you have seen snakes" She replied "In Zoo or Snack parks", I said "Dear even I have seen it only in zoo and snake parks like you".  Snakes are not commonly found in streets or in public places except in zoos.
Why Indian food is so spicy?
Not in every part of the country we serve spicy food. If you go to northern part, for example, we have Dal varieties (curried yellow lentils), can be mild. In down south we have delicacies like idli, vada, and the most loving dish curd-rice. We have foods that suit for all kind of taste buds.
You speak different language other than your national language?
As I said earlier there are about 122 native languages and 23 official languages in India. 60% of Indians have mother tongues other than Hindi. So, its normal for an Indian to speak in his state's language and not in national language.
Why can't you eat beef but eat chicken?
There are people in India who eat beef, It's something what Hindu religion says and its our choice to eat or avoid. So, people who follow and believe in Hindu religion doesn't consume the cow. There are many religion other than Hindu, hence many consume beef in India.
Can you teach Yoga?
I always have a weird smile at this question and say no. Because I always felt ashamed that more than Indians, the western world is taking Yoga more seriously (as far as i know). It's a fact that lot of us don't do Yoga.
Do all Indian people sleep in streets?
One of my German friend visited India and she saw a large amount of people sleeping in streets and parks and thought its a normal practice for Indians to sleep in streets. But, no not every Indian sleeps in streets. They are bunch of homeless people like the same in other western countries. The only difference is the number of people, which is obviously higher, considering the Indian population.
Does India have a hot weather all 365 days?
Nope! Even our countries weather changes from region to region.  India does get very hot summers, equally cold winters and a moderate tropical weather. Looking at the size of the country it is not possible to have only one kind of weather throughout the year. We have six ecological seasons.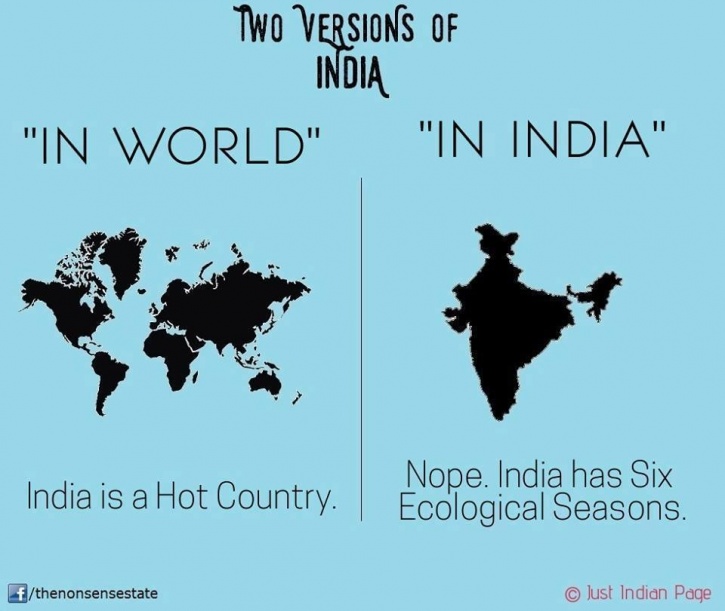 //pagead2.googlesyndication.com/pagead/js/adsbygoogle.js
(adsbygoogle = window.adsbygoogle || []).push({
google_ad_client: "ca-pub-6244618799601033",
enable_page_level_ads: true
});